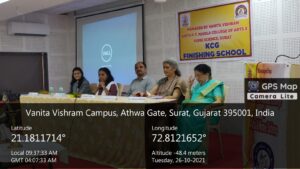 The has started Finishing School Training for the final year students of Arts & Home Science. Finishing school is an ambitious initiative of KCG, Department of Education, Government of Gujarat.
Training will be conducted in four set of total 80 hours. This will help students to increase their employability.
Inauguration program was graced by Principal Dr. Vrajesh Patel, Program Officer Mrs. Minakshi Tripathi, Dr. Suhas Vaidya & Dr. Sarij Prajapati.